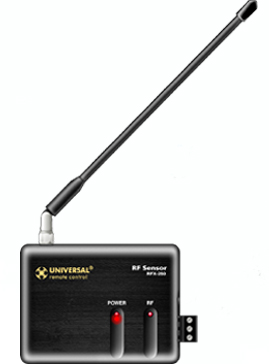 RFX-250 RF Sensor

(antenna module)

The RFX-250 receives radio signals from a remote control and relays them via cable back to the MSC-400 master System Controller or MRF-350 Base Station. Advanced Narrow Band receiving circuitry provides longer range and minimizes interference, providing for more reliable system operation. Its compact size enables the RFX-250 to be placed out of sight.

The RFX-250 displays RF interference via a bright red LED which flickers when interference is present. Simply relocate the RFX-250 out of the interference area. The RFX-250 is separately mounted in the interference-free location and connected to the MSC-400 or MRF-350 base station by a three conductor cable up to 150 feet away.

By combining additional RFX-250 antenna modules in parallel using a three conductor wire connected to a centrally located base station, custom installers can extend "no more pointing" RF automation to all areas and rooms of even the largest estates.

One RFX-250 Narrow Band RF Sensor is included with the MSC-400 Master System Controller and with the MRF-350 Multi-Zone RF Base Station. Additional units can be purchased separately.

Note: The RFX-250 uses Narrow Band RF and is perfectly tuned and matched to operate with the MX-3000, MX-980, TX-1000, MX-950, MX-810 and MX-900 remote controls. It is not compatible with any other remotes.

RFX-250 package includes

Wall Mount Plate with four screws

Specifications

Weight: 3.5 oz (Mounting bracket included)

Range: RF - Up to 100 feet

Approximate range will vary depending upon operational and environmental conditions

Warranty: 1 year parts & labor when purchased from an authorized dealer